South Park: Season 17 Episode 8 – "A Song of Ass and Fire" | video stream | iTunes | Amazon Instant Video
The console wars are heating up in South Park. Hordes of souless shoppers approach the mall in anticipation of the Black Friday sales. Princess Kenny's betrayal has left Cartman out for revenge. The kids prepare for an epic battle where one faction's favorite gaming device will come out on top. Will Stan and Kyle's friendship survive Black Friday?
Original Air Date: 2013-11-20 | Press Release
As usual, this episode will be available for streaming in the United States shortly after the premier at South Park Studios. The uncensored version will be made available 24 hours after this episode aired on Comedy Central.
You can search for "South Park S17E08", but you will not find any leaks before the episode aired. You can watch the preview, though.
"What Happens When the Dragons Show Up?"
Butters and Scott Malkinson seek answers from the source. (Flash | MP4)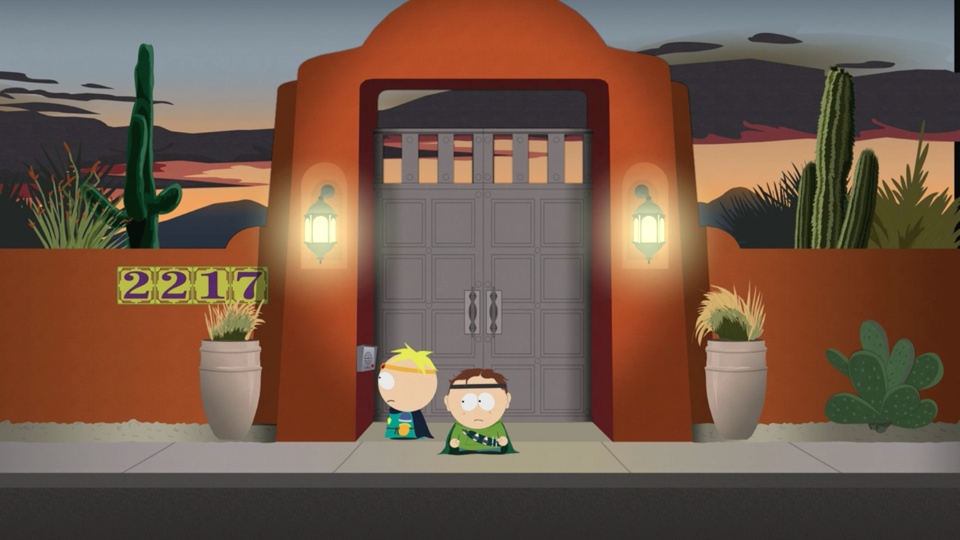 Show Notes:
What is AmazonSmile?
AmazonSmile is a simple and automatic way for you to support your favorite charitable organization every time you shop, at no cost to you. When you shop at smile.amazon.com, you'll find the exact same low prices, vast selection and convenient shopping experience as Amazon.com, with the added bonus that Amazon will donate a portion of the purchase price to your favorite charitable organization. You can choose from nearly one million organizations to support.
In the United States this episode will be airing on Comedy Central. First week run schedule on Comedy Central:
Wednesday November 20, 2013 – 10:00 p.m.
Thursday November 21, 2013 – 12:01 a.m.
Thursday November 21, 2013 – 10:30 p.m.
Sunday November 24, 2013 – 11:03 p.m.
Monday November 25, 2013 – 02:52 a.m.
Wednesday November 27, 2013 – 09:30 p.m.
——-
Out now, South Park: The Complete Sixteenth Season, Uncensored.
Blu-ray | DVD | iTunes Store | Amazon Instant Video
Pictures are courtesy of South Park Studios
——-
Disclaimer:
The Amazon.com link here is laced with an Amazon Associates tag, thus we get a small kickback every time you use it to purchase products from Amazon.com.
90403