South Park: Season 14 Episode 1 – "Sexual Healing"
The latest in scientific testing reveals that some of the boys at South Park Elementary have a sex addition problem.
Original Air Date: 2010-03-17
"Sexual Healing" will be available for streaming on March 17th, 2010 11:59PM Pacific Time.
Preview "Sexual Healing" here ("A Suggestive Picture" –  Scientists visit Mr Garrison's Class to do some tests.)
Teaser trailer featuring Tiger Woods actual sound bytes, "All The Temptations."
Another teaser trailer featuring the likes of Tiger Woods, David Letterman and Bill Clinton, "Our Ultimate Downfall" –  Men gather to discuss their destructive behavior.
Please check back on Saturday or Sunday night for more South Park Episode News!
"Sexual Healing" will be available for streaming on March 17th, 2009 11:59PM Pacific Time. You will watch it here (Flash Player required) instead of downloading the episode from site like MrTwig.net or SouthParkFiles.com.
From the Comedy Central Press Release:
SEX ADDICTION IS ON THE RISE IN THE 14TH SEASON PREMIERE OF "SOUTH PARK" BEGINNING ON WEDNESDAY, MARCH 17 AT 10:00 P.M. ON COMEDY CENTRAL

New York, March 15, 2010 – The latest in scientific testing reveals that some of the boys have a sex addiction problem in the 14th season premiere of "South Park" titled "Sexual Healing" premiering on Wednesday, March 17 at 10:00 p.m. on Comedy Central.

The nation's top scientists come together to put a stop to the recent phenomenon of rich, successful men who suddenly want to have sex with many, many women. After extensive testing, some of the fourth grade boys in South Park Elementary are diagnosed as sex addicts.
Notes:
As usual, this episode will be available for streaming at South Park Studios following the premiere on March 17th, 2010. Uncensored version will follow shortly after.
"Sexual Healing" at Wikipedia.
Tiger Woods Marital Infidelity and his wive Elin Nordegren.
Electronic Arts: Tiger Woods PGA Tour 11 (June 8, 2010) – PlayStation 3, XBox 360 and Nintendo Wii.
David Letterman's extramarital sexual affairs.
President Bill Clinton and the infamous cigar incident with Monica Lewinski.
Other characters in the preview clip includes Eliot Spitzer, Billy Bob Thornton (with the blood-filled vial on his necklace), Charlie Sheen, David Duchovny, Ben Roethlisberger, Michael Jordan, and Kobe Bryant. (Corrected per Wikipedia Info).
Central for Disease Control and Prevention (CDC) Headquarter is in Atlanta, Georgia.
Characters also include President Barack Obama and First Lady Michelle Obama.
Also mentions of David Carradine and Michael Hutchence.
David Carradine was also featured on "Dead Celebrities" (Season 13 Episode 8).
"Sexual Healing" a song by Marvin Gaye. (Amazon | Amazon MP3 | Wikipedia)
Sexual Addiction is real, just like what Dr. Drew Pinsky said – Sex Rehab with Dr. Drew.
South Park: Season 14 Episode 1 uncensored version will be available purchase starting March 20th, 2010 at Amazon.com and iTunes Store.
Stay tuned for more info.
Public Service Announcement:
This episode will be available for streaming after the premiere on Wednesday March 17th, 2010 at South Park Studios. Flash Player is required even though Steve Jobs calls it a dying technology. Forget about watching the stream on your iPad.
Comedy Central Airing Schedule for South Park: Season 14 Episode 1 (Eastern and Pacific Time)

Wednesday March 17 2009 10:00PM
Thursday March 18 2009 12:00AM
Thursday March 18 2009 9:30PM
Sunday March 21 2009 11:00PM
Monday March 22 2009 02:00AM
Tuesday March 22 2009 10:00PM
Comedy Central strongly urges you not to download the episode from any site such as MrTwig.net/SouthParkFiles.com or any other South Park related sites. Remember that unauthorized download of South Park episodes hurts Comedy Central and South Park team. It is very very wrong to download South Park Episodes from sites like MrTwig.net, because Comedy Central would have to wait for another 2 months to get gold plated shark tank installed in their lobby. Instead, Comedy Central would like you to purchase the episode from vendors like Amazon.com or iTunes Store.
——-
Celebrate South Park's 200th Episode
The 200th episode of South Park premieres April 14 and we are inviting fans to congratulate Matt and Trey and the entire South Park crew, by submitting a fan video or an image to SouthPark200.com.

Tell us about the first time you saw South Park, talk about your favorite episode or just show off your creative skills. It can be animated, live-action, a mash-up, your drawings or whatever else you want to do to commemorate the 200th episode.

Visit SouthPark200.com for all the info and take this chance to congratulate Trey, Matt and South Park on 200 amazing episodes.
Check back for more info.
——-
By the way,
Available March 16th, 2010
South Park: The Complete Thirteenth Season – Uncensored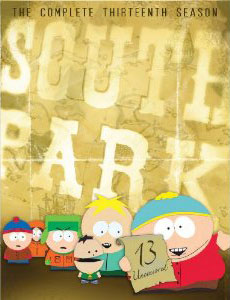 Disclaimer
If you bought anything through Amazon link above, and I get some kickbacks.
"If you buy these DVD's, I can buy a Canon Vixia HF S21" to paraphrase the great Robert Schimmel.